Introduction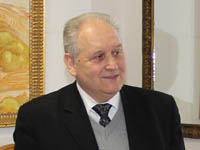 Time is a constant motive for action. It makes us move towards  new aims. Everything, which seems impossible today, tomorrow becomes a reality, and the day after — a routine.
Some people might think, that museums are above those issues, as they are the guardians of the eternity — they as if froze in time. Is that so?
Absolutely not.  Nowadays one can hardly find a department, which would have experienced so great changes, innovations, considerations, refreshing methods and rules, as modern museums undertake.
Quite a long time ago they've transformed from simple depositaries of material culture into dynamic informational centers, modern resources of knowledge.
A modern museum is a polyfunctional sociocultural institution, which garantees the forming of not just a culture of memory, but an important source for the future.
This variety of tasks are formed by the activity of Vinnytsia Regional Fine Arts Museum into a vital, modern structure, in which the fundamental historical and cultural tasks are combined with ta wide range of communicative practical skills.
Implementing everything new and the best, presenting its innovative projects, due to the consistent and thoughtful policy, the museum gradualy develops and firmly undertakes the way of modernization for more than 25 years.
The old museum issue of recruiting staff is solved by tranferring knowledge from experienced professional museum workers to young specialists — not only art historians, but to linguists, historians, artists.
In the modern world of constant search, tests, manipulation of old proved methods in new ways, to avoid chaos and destruction is a great challenge all by itself.
In that context we consider to be an achievement not just a plain search for innovation and creation of new forms, but their profundity, oriented at the high level of taste and intellectual importance. That is the most actual criteria for us today!