Art Fair of Christmas Decor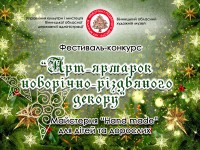 Vinnytsia Regional Fine Arts Museum gave start to a new communicative project, in which both kids and parents can take part. The main goal of it is – to create original decor for your Christmas tree, which would recreate the unique atmosphere of the favorite holidays.
For instance, together with the skilled craftsmen in hand made you will be able to create the classical symbols of the New Year and Christmas, – the Christmas Trees, stars, angels, snowflakes, garlands, phantasmagoric elves, greeting cards, both in the classical European as well as in the traditional Ukrainian style.
Hand Made Workshop – is not only a chance to create an art-work with your own hands, but to visit an original ethnic interior of a Ukrainian hut, were beautiful works of folk art are being preserved. The impressions and delight from such a study will prolong the positive emotions and desire to conquer an interesting craft. The innovation of this season will be the Fests' program "Art Fair of Christmas Decor", were each and every one will have a chance to create a wonderful decoration for his Christmas tree under a supervision of an expert.
Our motto is: "I know how to do that!I'll teach you!"
Welcome to our holiday Workshop!